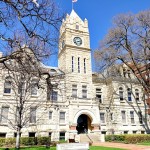 Levertis Horne's trial began Tuesday in Riley County district court.  Horne is accused of a home invasion which resulted in a K-State student being shot in the upper torso.
Jury selection took place during the morning hours, with the trial beginning at one o'clock in Judge John F. Bosch's courtroom.
Bosch addressed a few motions before having the jury enter.  He granted permission to sequester all witnesses, as requested by counsel.
The 12 jurors entered the courtroom for opening statements.
"It started with a knock on the door".  This was the first sentence of Prosecuting State Attorney, Kendra Lewison.  She explained the scene that her and fellow Prosecuting State Attorney, Barry Disney prepared, which began at the defendant's apartment where he lived with his three roommates.  Lewison explained several 911 calls were made, with gunshots in the background.
Horne's Attorney, Brenda Jordan said the state minimized the story in their opening statement, and "there's a rest of the story".  She explained there are some time discrepancies which are important in this case.  According to Jordan, the first 911 call was sent at 11:30 p.m. October 5th, 2012, yet records show it came in at 11:54 p.m.  The roommates told Jordan, the altercation did not take 24 minutes, so she stated there must be more to the story.
Jordan asked the jurors to pay close attention during the video of the four roommates that will be played later in the trial.
She closed her statement by saying Horne was jumped as he was coming to buy marijuana, since the people giving him the marijuana knew he would arrive with money.
Riley County Police Department Sgt. Scott Hajek was a patrol supervisor at the time of this case.  He was the first witness called to the stand.
Hajek responded to the call in his patrol car shortly before midnight the evening of the altercation.  He was the first to arrive at the scene, and Officer Calvin Sanders arrived just shortly after.  Hajek said he heard someone call "in here!" and entered the apartment with Sanders.
Hajek described the scene as someone was on the floor bleeding.  He stated there was initial confusion as to whether the man on the floor had been stabbed or shot, since there was a bloody pocket knife on the floor.
This three day trial will resume in court tomorrow morning with more witnesses.