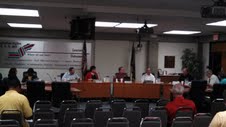 Rolls, fruit, juice, and coffee were the ice breakers for a recent meeting as all seven USD 383 school board members and five legislators met Friday morning to talk about some issues.
Kansas Representatives Vern Swanson, Tom Phillips, Ron Highland, and Sydney Carlin were there along with Senator Tom Hawk.
Curt Herrman, board president, began the meeting by bringing  forth the first item concerning the Kansas Association of School Boards and how the board for the USD 383 district is in support of the items before them.
The second item was Common Core and Kansas Career Ready both brought up by Aaron Estabrook, board member.
During the discussion, Swanson made known he appreciation to discover the support the Manhattan Ogden school board has for common core.
"It's very important to adopt a national standard," Swanson said.
Dave Colburn, board member, also informed the delegates work has already been put into creating common core and if it, for some reason, goes away, then that's wasted time.
The final item that was brought up was funding solutions, as the school board only has one option for their funding property tax, they are in need of funds.
Representative Tom Phillips, however, hit the board with some reality.
"Saddle up and hold on, we're not going to be talking tax policy in this session."
Part of the funding issue is also riding on the lawsuit and if the state loses, then where will the money come?
Senator Tom Hawk explained there are options being thrown around, including an increase in property tax of 16% or the use of reserves, both of which are not favorable options.
Lew Faust, Financial Coordinator for USD 383, explained they are already dipping into their reserves to fund basic things as payroll at least three times a fiscal year.
The legislators encouraged not only the board, but everyone to come out to their legislative talks whenever their back in town as with the session beginning they'll be spending their time elsewhere.