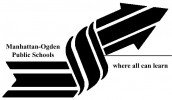 At about 1:30 pm Wednesday, an email was distributed from Greg Hoyt, Manhattan High School Principal.
Below is the contents of that email.
"Parents,
I wish to take a moment to share with you some information out of Topeka this morning, certainly not to alarm you, but just as a means to communicate and share information.
From the WIBW website:
'Shawnee County District Attorney Chad Taylor announces that his office has filed charges against a 17 year old Topeka youth alleging four counts of Murder in the First degree: Solicitation, all of which are level 3 person felonies. These charges arise out of allegations that the accused was planning to commit crimes at a local high school. While charges have been filed, the investigation is ongoing.'
Last week at MHS, we had a kickoff for the implementation of the Olweus Bully Prevention Program. While the program's intent is to address and reduce bullying in schools, in the larger context it is about creating cultures in schools that are accepting, nurturing, and that develop a sense of belonging for everyone.
It appears that a potential crisis has been avoided in Topeka. The Shawnee County Attorney in his press conference relayed information about reporting potential incidents of crime or violence including the use of Crimestoppers, or communicating directly with law enforcement or school officials. All of us have a responsibility to care for each other, so I urge all parents (and school staff members), anyone who spends significant time with our youth, to pay attention to conversations and to not brush potentially dangerous or harmful comments and conversations off lightly. Rather, let's all share information with each other in order to protect our children and ourselves.
Greg Hoyt, MHS Principal