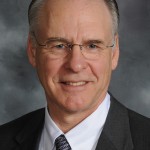 Ralph C. Richardson has announced his plans to step down as dean of the Kansas State University College of Veterinary Medicine no later than July 2015. He will then assume a faculty position.
Richardson became the college's 11th dean in summer 1998 after serving as the head of the clinical sciences department at Purdue University. Richardson received his Doctor of Veterinary Medicine from Kansas State University in 1970, completed an internship in small animal medicine and surgery at Purdue in 1973, a residency in small animal internal medicine at the University of Missouri in 1975, and a training program in clinical oncology at the University of Kansas Medical Center in 1978.
"I plan to continue in a faculty role with the college and the university, hoping to use my abilities in program building and my background in comparative medicine to continue strengthening collaborative programs that benefit K-State," Richardson said. "I have a real sense of urgency to see our plans for the future become reality, but I want the college and the university to have plenty of time to conduct an orderly search for my replacement."
"Dean Richardson has led the College of Veterinary Medicine during a time of great change in both veterinary medicine and higher education," said April Mason, Kansas State University provost and senior vice president. "He has been the champion of many innovative programs, including the U.S.-China Center for Animal Health, which involves students and scholars from both countries together in efforts toward better veterinary health. I am most appreciative to Dean Richardson for announcing his future plans early so that a search for his successor can be conducted and assure a smooth transition of leadership."
Under Richardson, enrollment in the veterinary college saw controlled growth from a graduating class of 79 students in 1998 to a current class size of 112 for each incoming class. More than $72 million has been raised in private support for the college, including the creation of 150 scholarships and seven permanently endowed professorships.
To ensure opportunities for Kansas State University undergraduate students and to enhance recruitment of exceptional students, the college's Early Admission Program was started in 1999. Richardson had an active role in helping to promote the Veterinary Training Program for Rural Kansas, which offers a debt repayment incentive for graduates to work in rural practices in Kansas. The college initiated a D.V.M./Ph.D. program to provide training for alternate careers paths such as for working in research laboratories and academia. The college is also part of the university's interdisciplinary Master of Public Health Program that allows students to work in one of four different areas of emphasis, including infectious diseases and zoonoses, food safety, public health nutrition and public health physical activity.
The College of Veterinary Medicine, under Richardson, is part of the university's internationally recognized programs protecting the health of the nation's livestock and food safety. Faculty members at the college are involved with research at the university's Biosecurity Research Institute. The comprehensive biosafety level-3 facility, north of the college, provides an environmentally safe and secure location to study pathogens that threaten humans and livestock. The college and its faculty also played a role in helping the university's selection as the site of the $1.25 billion National Bio and Agro-Defense Facility, or NBAF, a biosafety level-4 facility, that will be constructed near the college.
During Richardson's tenure, faculty and staff numbers grew and their teaching, research and service efforts garnered national and international attention. In 2008, Jürgen A. Richt was hired as a Regents distinguished professor and Kansas Bioscience eminent scholar. Recruited from the U.S. Department of Agriculture's National Animal Disease Center in Ames, Iowa, Richt became the director of the U.S. Department of Homeland Security's Center of Excellence for Emerging and Zoonotic Animal Diseases, or CEEZAD, at Kansas State University in 2010.
Two of the college's service units, the Veterinary Health Center and the Kansas State Veterinary Diagnostic Laboratory, have made numerous advances under Richardson's leadership as dean. This includes renovations of the health center's intensive care unit, linear accelerator, CT scan and MRI capabilities, and more. A satellite hospital, MidWest Vet, was established in Omaha, Neb., to expand animal health care service and access teaching cases to a broader region. In 2013, Manhattan's Sunset Zoo, as part of its longstanding partnership with the Veterinary Health Center, renovated and expanded its veterinary clinic. The diagnostic lab expanded its facilities to include a new Rabies Laboratory in the university's research park and a microbiology laboratory at the Kansas State University Olathe campus. The lab also, in 2011, established a special partnership with Abaxis Inc. that includes support for a clinical pathology resident and created the Abaxis Veterinary Reference Laboratories, which incorporates the diagnostic lab for some of its diagnostics testing.
"I could not be more proud of the faculty and staff in our college," Richardson said. "We are truly like a family, and as I try to say frequently, we have accomplished the wonderful things that we have done because of the teamwork we have in the College of Veterinary Medicine and at K-State."
(information courtesy of K-State News and Editorial Services)