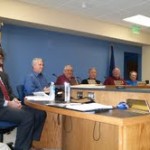 Wamego's Animal Shelter is asking for an increase in funding. At Tuesday's City Commission meeting, members of the Pottawatomie County Caring Hearts Humane Society appeared requesting a modification of the financial piece of the 2009 Animal Shelter's agreement with the City. According to City Manager Merl Page, the City now pays the Shelter 8-hundred dollars per month, and they are requesting an increase to 2-thousand per month.
According to Caring Hearts Volunteer Susan Clausen, to be in compliance with the State's rules, they had to hire 2 part-time employees, with the average payroll totaling 16-hundred dollars per month, and with the cost of supplies to maintain the shelter, the increase is necessary. Besides the funds the City now provides, they also provide the building and utilities. After gathering more statistical information, the Commission tabled the decision until the next meeting.
Also at Tuesday's City Commission meeting,  Page announced the modified maps are ready, and to continue membership in the National Flood Insurance Program, the City and member cities within Pottawatomie County are required to adopt the new maps prior to the December 4th effective date.
According to Page, these maps were modified after the public forum last year raised concerns causing a review, and even though not all the concerns were satisfied, these are the final maps. Commissioner Bob Morse asked if all the homes and businesses in the new flood plain area are required to purchase flood insurance. Page affirmed, but added that the City is part of the Certified Rating System (CRS), and insurance savings may still be available to those that are affected by the new maps.
In other business, the Commission approved a Petty Cash fund for the Police Department with a $250 limit; the Commission reviewed the proposed Equipment & Property Disposal List, and authorized City staff to advertise and dispose of by the best method available.
The September sales tax numbers show a 2.1 point 1 percent increase in County-wide, and 8.8 percent increase in the City taxes, compared to the same time last year. Page said local sales tax remain strong.