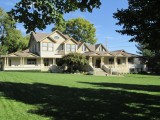 A piece of Wamego history went up for auction Saturday. The Leach-Ditto home was built in 1890, with the second story addition completed in 1904.  Over the years, the home saw many changes, once being converted into multiple apartments.  Dr's. Bill and Rose Ditto purchased the home in 1987 and completely renovated the home, keeping as much as the original as possible.
The home is over 6,000 square feet, with 5 bedrooms and 4 1/2 baths, 4 garages, 4 gas fireplaces, a large family room all done in walnut.  It is heated and cooled with 5 separate HVAC units.  There are 70 windows, with 25 of them either stained glass or leaded glass.   The property is situated on 3 plus lots.  The Ditto's purchased a portion of the lot north of their property to construct the family room addition and patio.
Crossroads Realty's Ron Hendrickson started the bidding at $750,000 and kept dropping the amount.  The final bid was $450,000 from Richard Weixelman and his family.  The closing date is set for May 15th.
After the bidding closed, Dr. Ditto thanked everyone for their interest now and throughout the years.  He said he and Rose have enjoyed the pleasure of living in the home for 25 years.