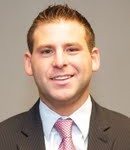 K-State men's basketball coach Bruce Weber finalized his coaching staff on Monday with the addition of Matt McCumber as director of student-athlete development.
In his new position, McCumber will be responsible for a variety of areas, including basketball-related matters, handling special projects for the coaching staff and assisting with community service projects and the department's Life Skills program. In addition, he will be involved in the student-athlete's academic development and counseling each in career planning and goal setting.
"We're really excited about addition of Matt to the coaching staff," said Weber. "He is someone who I have known for a long time since he was a student manager for me his last two years at Illinois. He has experience at a variety of levels, including as a graduate assistant for Chris (Lowery) at Southern Illinois and as a director of operations. He also has spent some time in private sector, which should be a great benefit in counseling our players regarding their futures."
A four-year student manager at Illinois (2001-05), McCumber arrives at K-State with four years of previous basketball administrative experience, including stints at Texas A&M (2005-06), Northern Illinois (2006-07) and Southern Illinois (2010-12). He recently spent the past year working in Dallas, Texas, as an associate sales representative for clinic therapies for Bioventus, a global medical technology company based in Durham, N.C.
Prior to his stint in the private sector, McCumber spent two seasons as a graduate assistant coach and director of basketball operations for current K-State associate head coach Chris Lowery at Southern Illinois from 2010-12. He coordinated the Salukis' team travel and film exchange, prepared scouting reports and monitored student-athletes' academic progress. He also passed the NCAA coach's exam and received a special NCAA waiver to assist the coaching staff with recruiting after the medical leave of an assistant coach.
McCumber joined the SIU staff after a one-year stint as the director of basketball operations at Northern Illinois for then head coach Rob Judson from 2006-07. He was responsible for managing all aspects of the office, including organizing team travel and coordinating film exchange for scouting and editing purposes.
In between stints at NIU and SIU, McCumber spent two-and-half years in the private banking industry in Chicago.
McCumber began his athletics administrative career at Texas A&M from 2005-06, where he served as an athletic assistant coach for Billy Gillispie at Texas A&M. During his time in College Station, he structured a recruiting database and prepared scouting reports for the coaching staff, coordinated monthly schedules for practice times and established a film exchange system. The Aggies posted a 22-9 overall record in McCumber's lone season and advanced to the NCAA Tournament for the first time in 18 years. Texas A&M knocked off fifth-seeded Syracuse, 66-58, in the first round, the school's first NCAA Tournament win in 26 seasons, before dropping a 58-57 decision to LSU in the second round.
During his four-year stint as a manager at Illinois, the Fighting Illini posted a 114-25 overall record and advanced to four consecutive NCAA Tournaments, including three Sweet 16 appearances and a trip to NCAA National Championship game in 2004-05. The school also won three Big Ten regular season championships and one tournament title and finished among the Top 15 all four seasons. In 2002, McCumber was selected to manage the U.S. Youth Development Festival for USA Basketball where he was nominated by current Kansas coach Bill Self and Gillispie.
McCumber replaces Wayne McClain, who left to become head coach at Champaign Central High School in Champaign, Ill., earlier this summer.
A native of Tuscola, Ill., McCumber, 31, earned his bachelor's degree in business administration in 2005 from Illinois. He also earned his master's degree in business administration with honors from Southern Illinois in 2012.
McCumber is the seventh and final full-time member of Weber's coaching staff at K-State for 2013-14, which includes associate head coach Chris Lowery, assistant coaches Alvin Brooks III and Chester Frazier, director of operations Drew Speraw, video coordinator Dustin Yoder and strength coach Jimmy Price.
In addition to McCumber, Weber also announced Dennan Morrow and Kevin O'Connor as the program's graduate assistants. A native of Norwich, Kan., Morrow was a two-year basketball manager for the Wildcats, including serving as head manager in 2012-13. He played at both Barton County Community College (2008-10) and Southwestern College (2010-11) before finishing his bachelor's degree in business management this past spring at K-State. O'Connor was a three-year basketball manager for Weber at Illinois from 2009-12. A native of Hadley, Mass., he spent the 2012-13 season as an assistant coach at Hopkins Academy after earning his bachelor's degree in psychology from Illinois in 2012.
Season tickets for the 2013-14 season are currently on sale through K-State Athletics Ticket Office and can be purchased a variety of ways, including toll free at (800) 221.CATS (2287), online at www.kstatesports.com/tickets and in-person at Bramlage Coliseum.
Stay connected to all things KSU on the go just text EMAW to 88474
For full video wrap-ups, including analysis, highlights, coaches & player interviews of K-State Football & Basketball check out PowerCatGameday.com