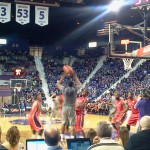 It wasn't the prettiest of games but it was in the most festive of atmospheres. The Kansas State Wildcats still smarting from a couple of rough outings in the Puerto Rico Tipoff two weeks ago were now faced with a serious test as they welcomed the Ole Miss Rebels to Manhattan. All Ole Miss did last year was win the Southeastern Conference Tournament and advance to the NCAA Sweet 16 led by their flamboyant and outspoken star Marshall Henderson.
For much of the night, K-State held Henderson in check and on the other side it was a collaborative effort as the Wildcats gutted out a 61-58 win over the Rebels Thursday night in front of a raucous crowd at Bramlage Coliseum. After jumping out to a quick 4-0 lead, K-State watched Ole Miss go on a 7-2 run and take a 7-6 advantage at the first media timeout. K-State however, responded with six straight points on the strength of Will Spradling's second three-pointer of the game and a layup by Nigel Johnson to grab a 12-7 lead.
For the rest of the half, the Wildcats could not hold a lead of more than five points thanks to untimely turnovers and quick possessions that often resulted in missed shots. Still K-State led going into halftime 29-27.
It was much of the same in the early stages of the second half as again the Wildcats went out to a five point lead at 38-33 with 16:21 left but Ole Miss ended up tying the game with an 8-3 run at 41-41 with 11:04 remaining. K-State led 49-46 before Henderson started a 7-0 Rebel run with a game-tying three pointer with 5:41 remaining and two more layups gave Ole Miss their largest lead of the contest at 53-49 with 4:18 left in the second half.
Thomas Gipson then started the Wildcats on the road back with a huge layup and sparked an 8-0 run that made the score 57-53, the final points scored on a three-point bucket by Marcus Foster. After Shane Southwell made a jumper that appeared to be more lucky than anything else, Henderson drained a three-pointer with 29 seconds left to cut K-State's lead to 59-58. Spradling made one of two free throws to make the score 60-58 and Henderson appeared to have an opportunity to win the game for Ole Miss but his shot went way wide of the basket and K-state was able to hang on for the three point win and hand Ole Miss their first loss of the season.
K-State managed to win this game despite shooting 37 percent from the floor and missing 15 out of 34 free throw attempts. Ole Miss wasn't much better shooting 38 percent from the field. Gipson who began the season recovering from a concussion and Foster led the Wildcats with 15 points apiece while Wesley Iwundu added 10. Jarvis Summers led all scorers with 18 points and Henderson registered 13 despite shooting four of 18 from the floor and making just two of 13 attempts from beyond the three-point line.
Kansas State (5-3) will next be in action on December 10 when they host South Dakota at Bramlage Coliseum in a 7 p.m. tipoff.

Stay connected to all things KSU on the go just text EMAW to 88474

For full video wrap-ups, including analysis, highlights, coaches & player interviews of K-State Football & Basketball check out PowerCatGameday.com