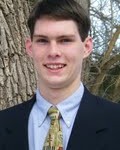 On Saturday,  Ben Wilson announced his withdrawal from the District 64 legislative race.
"I like to stick with what I've started and not quit, so this was a difficult decision for me," Wilson said. "But after much thought and prayer and talking with several personal mentors, I have decided that it is the right thing to do."
Wilson says that the biggest reason for this move was Kathy Martin's decision to run for the House seat. "Overall I like what I have seen of Kathy, and I know that she is a strong candidate that I can support. Now that she is running, I don't think it makes much sense for me to continue pursuing that position."
On March 21st, Wilson had filed to run for Kansas House District 64, which includes Clay County and much of Riley County. Since that time Kathy Martin and Susie Swanson have also filed to run for the seat currently held by Rep. Vern Swanson, who is not seeking reelection.