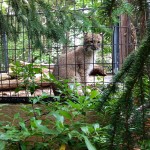 Sunset Zoo has announced the names of their new 6-month old bobcat Mittens and 4-month old chimpanzee Nkurukoto.
Bob Krause and Marty Vanier selected Mittens and Doug and Charlene Anspaugh selected Nkurukoto through a connection at their local church, whose congregation are currently completing missionary work in Kenya.
Mittens was named in memory of a beloved pet of the Krause and Vanier who encountered bobcats while protecting the family farm. Nkurukoto was named after a Kenyan Samburu language which means faith.
Community members can visit Nkurukoto at the primate building in the Zoo's African Forest Trail and Mittens can be visited along the Kansas Plains trail near the Zoo's concession stand.