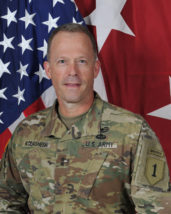 The 1st Infantry Division will bid farewell to their old commanding general and welcome their new leader at a change of command ceremony at Fort Riley's Cavalry Parade Field on June 8.
Maj. Gen. John S. Kolasheski will take over command of the "The Big Red One". He most recently served as deputy chief of staff for the U.S. Army Forces Command at Fort Bragg, North Carolina and previously served as deputy commanding general for maneuver of the 1st Division from June 2015 to May 2016.
He is taking over for Maj. Gen. Joseph M. Martin, who has served as commanding general of the division since October 2016. While in command of the 1st Division, Maj. Gen. Martin was deployed to Iraq where he oversaw Coalition troops training as well as advised and assisted Iraqi Security Forces as the commander of the Combined Joint Forces Land Component Command – Operation Inherent Resolve.
While in command in Iraq, 1.8 million people were liberated in formerly ISIS-controlled Mosul, Iraq, allowing 320 schools to reopen and 195,000 people to return to their homes. The 1st Division also assisted in training 30,000 Iraqi soldiers under Maj. Gen. Martin's command as well.
The ceremony will start at 10 a.m.