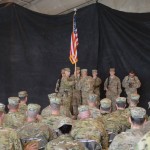 Some of the last 1st Infantry Division Soldiers to deploy to Afghanistan have arrived home.
The final main body flight with about 90 Soldiers  returned, with both of the brigade's command team and their colors. The ceremony took place at 4:30 a.m. Saturday in Bldg. 863 on Fort Riley.
 The "Big Red One" first deployed troops to Afghanistan in 2008. This deployment is projected to be the last for a 1st Inf. Div. brigade in the region.

  An uncasing took place at this redeployment ceremony, where the brigade's commander, Col. Matthew Lewis,  marked the "Demon" brigade's official return home.

Also on the flight was Lt. Col. Richard Martin, commander of the 601st Aviation Support Battalion. An Apache pilot by trade, Martin commanded the battalion which supported the brigade's aviation assets with maintenance, fuel and ground transportation. He and his battalion conducted partnership training with the Kandahar Air Wing and the Afghan Air Force.

 While deployed, the 1st CAB conducted aerial reconnaissance and aerial security for Kandahar Airfield, Shindand Airbase and several smaller bases while providing close combat air support for the International Security Assistance Force and Afghan forces. The 1,400 Demon Soldiers provided around-the-clock helicopter aviation support across an area the size of Montana.
A full video of the ceremony can be found below: