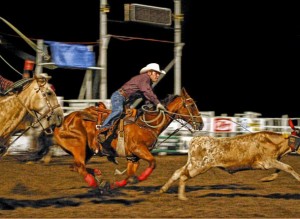 Despite battling triple digit temperatures for much of last week, the Riley County Fair still produced record numbers in sales.
County extension director Jennifer Wilson was on hand at Thursday's Riley County Commission meeting to recap the weekend's events. Wilson credits the vendors who purchased space on the fairgrounds.
"We had a record year for commercial and organizational booth spaces," Wilson said. "I commend those who stuck it out through everything."
The $9,670 generated from booth sales will go to fairground improvements. Although overall attendance numbers were down compared to last year, Wilson came away impressed with how the fair turned out.
"Despite the heat and a stray thunderstorm, the fair went very, very well this year," Wilson said.
Dates for next year's fair have already been released. The 2012 Riley County fair is scheduled to run from July 26 to July 30.
—
Steve French of the KVRA gave an overview of this year's rodeo at Thursday's Riley County Commission meeting.
French says triple digit temperatures did not discourage rodeo-goers or performers.
"As far as we can tell, we had no problems with the livestock," French said. "We had no problems with the tremendous heat. We actually were concerned about some heat problems with our spectators but we didn't encounter any issues."
Total attendance over the course of three day event was five-thousand-twenty-seven (5,027) people. That mark surpassed the five year average of five-thousand-fifteen (5,015) individuals.
While French was positive about many aspects of the rodeo, he did report one minor snag.
"Since we had security people at the gate we enforced our no food and drink policy," French said. "We still try to sell concessions to make money and that did upset some people but it was a very small number."
With the exception of the concession issue, French said there were no major problems at the rodeo and that no citations were issued.
—
County attorney Barry Wilkerson provided a department update at Thursday's Riley County Commission meeting. Things are slow in the attorney's office. Wilkerson expects activity to pick up once (K-State) students return for the fall semester. Additionally, Wilkerson's didn't provide many details, but he does plan on formally welcoming a new member to his staff by the end of next week.