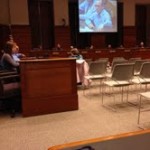 From continued improvement of traffic safety and reducing crime to making use of available technological advances and improving employee wellness, Riley County law board members approved a list of goals for 2014 at its meeting Tuesday. Board member Wynn Butler made the motion, which was approved unanimously.
Butler had said earlier in the meeting a process review could highlight some of the areas that get buried, including the good things Riley County Police accomplish.
And before moving on to this year, Board Chair John Matta emphasized 2013 had been a good one for reaching goals.
Action items for 2014 include a complete review and revision of all job descriptions, a review of on-line reporting to ensure efficiency,  continued work with Riley County on moving RCPD's firing range, and a continued process review.
 A grant for impaired driving deterrence was also approved by the board Tuesday.