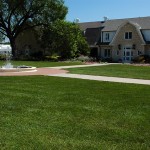 "Water, Water" was the theme of this year's 25th Annual Garden Tour. Riley County Extension Master Gardener's hosted the event Sunday afternoon.
From 1:00-5:00 p.m., participants had the chance to view five gardens throughout Manhattan. All of the garden's features waterfalls, ponds, and other water wonders.
Master Gardeners were spread out through the five locations to provide additional information. Some of the key concepts for a "water wise" yard include: watering deeply and infrequently, irrigating in the early morning, monitoring the weather and using drip irrigation.
The five home gardens are listed below:
-Jim and Sally Lindquist-1500 Sharingbrook Drive
-Kirk and Betty Wilson-2151 Bluehills Road
-Sharyl and Jerry Reynard-3308 Shady Valley Drive
-Bob and Francine Rowland-3008 Meadowood Circle
-Elaine Mohr-800 South Juliette
All of the proceeds will benefit the Kansas State University Gardens.