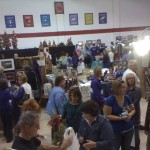 Since 1981, this annual craft fair offers local residents the opportunity to view handmade items from over 100 vendors.
Buttons and Bows has grown over the last 33 years, and is spanned between three different buildings in order to fit all of the vendors in.  Jewelry, signs, Christmas decor, soaps, popcorn, and pottery were among the many crafts that could be purchased.
While some vendors were seasoned veterans, some vendors were new to the event.  Gertie Hinkle, of Herrington, brought some of her stained glass creations.  She said this is the first year she has attended this event in particular, but she travels to many different craft fairs in Salina and Topeka.  Being retired has allowed her hobby to become more of a profession.
This event was held at the Seven Dolors Catholic Church, and surrounding buildings, Saturday from 8:30 a.m.-4:30 p.m.