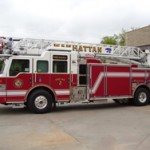 The Manhattan Fire Department's Wednesday report stated a semi-truck and a trailer caught on fire Tuesday night.
The fire began at 5th Street and El Paso Lane around 6 p.m., upon arrival firefighters found the cab and refrigeration unit of the trailer were fully involved and extinguished the fire.
It was determined after an investigation that the fire began in the refrigeration unit because of equipment failure.
Fire loss is estimated at $151,000 and a $1,000 damage to a semi parked 8 feet from the one that was involved.