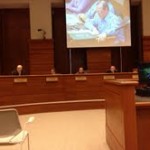 Riley County Police Director Brad Schoen told Law Board members Monday his department is "breathing pretty rarefied air" when it comes to being able to document and show its plan and follow-through. And that's why the department apparently continues to excel when it comes to being recognized by the National Commission on Accreditation for Law Enforcement agencies.
The local group once again was recognized for outstanding performance during a conference of the Commission on Accreditation for Law Enforcement agencies held in Charleston, South Carolina last week. RCPD Director Brad Schoen told the Law Board only six of the 125 agencies being reaccredited were presented with the Accreditation with Excellence Award.
Accreditation is voluntary but RCPD has been active in the process, becoming the first nationally accredited law enforcement agency in Kansas in 1991.
Once again Fake Patty's Day was a topic of discussion at the Monday Riley County law board meeting, with Riley County POlice Director presenting a power point and more specific numbers and graphs than had been released before. Director Brad Schoen admits it was a bit more expensive than the preceding year, but says things seem to be calming down some.
Board Chair John Matta had a question about undercover operatons by law enforcement. Schoen and RCPD Captain Kurt Moldrup indicated their department had no undercover officers, with those seen likely being from the ABC. Another question came from Board Member Wynn Butler about the number of RCPD officers who worked what's become an  annual event, with Captain Moldrup confirming four less officers worked the event, mostly due to individual health related matters.
Proposed goals for the Riley County Police department for 2013 were approved by law board members Monday, with RCPD Director Brad Schoen indicating some changes had been made since the last meeting. The goals were eventually approved unanimously with brief discussion relating to possibly working with the city and county toward automated traffic enforcement systems.
The group also recognized National Public Safety Telecommunications week, with  Matta reading the proclamation. Receiving the proclamation were Dispatch Shift Supervisor Tyler Siefkes and Dispatcher Kyle Soldani. (see picture below)
Board members also approved Director Schoen's contract following an executive session, with a move in the approved salary chart.