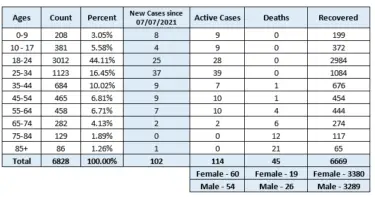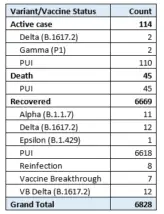 The Riley County Health Department has confirmed an unvaccinated 86-year old woman has become the latest victim of COVID-19 in the county.
Her death is the 45th in Riley County since the start of the pandemic last year. She passed away July 10, just over a month after first testing positive for the virus.
Ascension Via Christi is caring for seven patients sick with COVID-19 symptoms, including one ICU patient. None of the seven had been vaccinated.
102 new coronavirus cases have been confirmed in the past week, with 31 additional recoveries being reported.
Since December, 40 positive cases from the variants of concern have been confirmed in Riley County. 26 of those are from the Delta variant, 11 from the Alpha variant, two from the Gamma variant and one from the Epsilon variant.
Pottawatomie County's latest COVID-19 update includes 16 new cases of 37 active according to the County Health Department.
There have been 31 deaths from the virus, none in the past week.
There is one person hospitalized with COVID-19 symptoms, bringing the number of those who have needed hospital care since the start of the pandemic to 78.