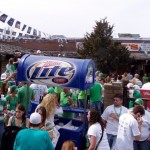 "Green break" is perhaps a nicer name for Fake Patty's Day which is approaching this next weekend– and Aggieville business owners are getting prepared for the event, which they continue to stress they did not create. During Tuesday's Aggieville Business Association meeting, A-B-A Executive Director Evan Tuttle reminded members of details for the event , with streets being shut down for the day an no parking warnings going out before that. Food and product Vendors will be lined up along sidewalks.
Tuttle admits efforts are more toward reacting to the event in a proactive way. Tuttle says portable restrooms will be set up and A-B-A will see to trash pick up in Aggieville, with Hands on Kansas State and Good Neighbors picking up trash in surrounding neighborhoods.
And Tuttle reminds us the next weekend is the official St. Patrick's Day celebration, complete with parade and races.
This year's parade will be led by Grand Marshal Jon McGraw–a former Riley County Falcon, Kansas State Wildcat and Kansas City Chief.