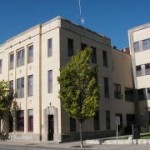 With the abundance of agricultural burning this past weekend, and the smoky haze that could be seen over Manhattan and surrounding areas, the Riley County Commission discussed air quality during their Monday meeting.
Emergency Management Director, Pat Collins and Public Health Emergency Preparedness Coordinator, Jason Orr teamed up to provide background on controlled burnings and air quality.
Collins mentioned there are two types of burnings- residential and agricultural. Depending on weather and wind, Collins can choose to "shut off" burning until conditions improve. There were large amounts of smoke in Manhattan, particularly on Friday evening, and Collins said much of it was due to the burning taking place in surrounding counties.
Since burning conditions have been poor for the last few years, Orr informed the commission this is why burning began a bit early this year and is the reason so many people seem to be doing it.
The biggest health risk with burning is the ozone that can be created within the pollutants in the smoke. Although levels in Riley County have not yet reached the point where ozone could become a concern, Orr said ozone can cause overall reductions in lung function and developmental difficulties in children.
Collins did recommend looking into formulating a task force, and possibly pushing for a monitoring station in the future, in Riley County. He said there are positives and negatives to a monitoring station, so some research would need to be done.
————
Public Works Director, Leon Hobson presented an agenda item regarding University Parks sewer district. There are five "private" parks located within the district, and he proposed the commission remove the parks from being assessed like all the other properties in the district.
The commission approved the recommendation to adopt this resolution.