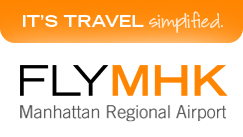 DALLAS (AP) American Airlines flights across the country are grounded because of computer problems.
American asked the Federal Aviation Administration to halt its flights until 5 p.m. EDT, or 4 p.m. CDT. Flights on regional affiliate American Eagle heading to Dallas, Chicago or New York's LaGuardia Airport have been stopped until 3:30 p.m. EDT.
Some passengers are stuck on planes while others can't make reservations.
Director Peter Van Kuren tells KMAN the Manhattan Regional airport is impacted. The 11:15a.m. to Dallas and 12:45p.m. to Chicago are sitting at MHK's Apron until the system wide outage is fixed. Estimated time for repairs is 4:00 pm.The airport, air traffic control and general aviation operations are all normal.