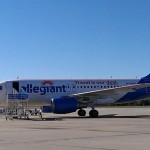 After two years of negotiations, The City of Manhattan and Allegiant Air officially dedicated the inaugural flight for jet service from MHK to Phoenix-Mesa, Thursday afternoon.
"We hope this is just the beginning of a great, long term relationship between Allegiant and Manhattan," said Eric Fletcher, Director of Airports for Allegiant Air.
Allegiant Travel Company is a Las Vegas-based company focused on linking travelers in small cities to leisure destinations. The company operates a low-cost, all-jet passenger airline through its subsidiary, Allegiant Air. The company has been named one of America's 100 Best Small Companies by Forbes Magazine for four consecutive years.
According to Airport Director, Peter Van Kuren, Allegiant could add more destinations in the future, depending on how the public receives the existing jet service.
"It is going to be through your support, your continued use of Allegiant Service to Phoenix-Mesa and to where ever they may choose to fly after this, based on the success of this service."
Allegiant's first flight comes on the heels of last week's dedication of the MHK terminal expansion project.
"You'll see in about a year, 22,000-square-feet added to the east with the hopes that we're able to obtain additional funding to finish it out to be about a 38,000-square-foot terminal," Said Rich Jankovich, Manhattan City Commissioner.
A majority of the project will be funded through grants form the Federal Aviation Administration and the City of Manhattan.
The expanded terminal will better accommodate passengers on American Eagle's daily flights to Chicago O'Hare, Dallas-Fort Worth; and now twice-weekly flights to Phoenix-Mesa Airport on Allegiant Air.