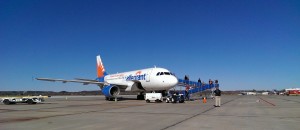 Update Tuesday noon:
As KMAN previously reported, Allegiant Air will no longer be servicing Manhattan Regional Airport after February 23rd. Allegiant Air Spokesperson, Jessica Wheeler commented on the closing Tuesday morning, and said the company was just not seeing a big enough profit or demand for this route. Wheeler adds Allegiant prides itself on being reactive to demand and being reactive goes in both directions, and unfortunately this situation involved a quick cancellation of service.
Wheeler commented that the company "does not try to make a habit" of quick closings like this.
KMAN also asked about whether the package deals hurt the success, with some listeners indicating there were "hidden costs" associated with these types of packages. Wheeler mentioned it's not as "cut and dry" as people may think. She stated Allegiant does have some locations where packages do not sell very well, but their air traffic still creates a large profit in itself.
When asked about whether a flight to Las Vegas would have done better, Wheeler commented she thinks the "revenue and planning teams are very sophisticated and make these decisions with a lot of eye for detail and certainly if they felt there was a strong potential for Las Vegas they may have chosen to do that route first."
Manhattan Regional Airport Director, Peter Van Kuren, told KMAN Monday night the beginning of the end, started just a couple of weeks ago. Van Kuren says the news is disappointing, saying "we thought we had a pretty stron market for the Phoenix area."
####
Allegiant Air announced Monday that it will end its scheduled service from Manhattan Regional Airport to Phoenix-Mesa, Az.
The announcement comes just two months and two weeks after Allegiant began its service on November 7th of last year; but According to Airport Director, Peter Van Kuren, the economics simply didn't work out. "What they (Allegiant) had indicated to us, is that they weren't really getting the number of passengers booking flights to Phoenix-Mesa at the price-point they needed in order for them to make a profit."
Allegiant will continue its service from Manhattan to Phoenix -Mesa, through February 23rd. Customers with reservations beyond the 23rd will be contacted directly by Allegiant for full refund.
"We are always disappointed to end service in a market," said Eric Fletcher, Manager of Airports for Allegiant Travel Co. "We thank Manhattan Regional Airport for their partnership and apologize to any travelers who are inconvenienced by this decision."