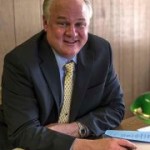 Alma resident and K-State alumnus, Keen Umbehr recently announced his decision to run for Kansas Governor.
The Libertarian candidate recently spoke to KMAN and shared his story. His father worked in oil fields overseas, so Umbehr grew up in parts of Africa and Asia. After meeting his wife in Singapore (she's originally from Wisconsin) the two moved back to the United States, where Umbehr says his interest in politics grew.
"We got back to Alma, started our family and started a trash company, we were in the trash business for 17 years; and during that 17 years, of course I attended meetings and wrote articles and I was just so interested in government," Umbehr said.
After growing three businesses, Umbehr decided to further his education and pursue his love for politics, so he sold everything and enrolled at K-State with his kids. He went on to graduate from the Washburn School of Law and has practiced locally for the past eight years.
Umbehr is a self-described activist and is serious about influencing change.
"Until you decide to run for public office and actually be the decision-maker in that office, you are limited so this is why I decided to run," Umbehr said. "I closed down my law practice in March, and I'm running full-time"
So what kind of change is Umbehr interested in influencing? Well to start with, he's concerned with the State's current tax plan, which he says allows 191 thousand people who run LLC's (commonly referred to as "pass-through" companies) to pay zero income tax while 1.3 million W-2 wage earners pick up the tab.
"They think this is unfair, discriminatory and probably unconstitutional. That's what we gotta change first because that puts money right back in peoples' pockets," Umbehr said.
Holding the government accountable and improving transparency are also high on Umbehr's list as he said it's far too easy for State Agencies to skirt around the Kansas Open Records Act.
"If a plaintiff takes that agency to court and sues them for violation of Kansas Open Records Act, the maximum fine is $500," Umbehr said "Well, it takes 5, 10, $15 thousand dollars in attorney fees, which makes it almost impossible for a citizen to enforce that law."
To learn more about Keen Umbehr and his platform, visit http://www.keenforkansas.com/