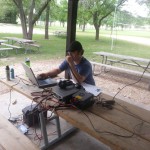 Members of the Manhattan Area Amateur Radio Society gathered under a shelter at Tuttle Creek State park this weekend to spend twenty four hours testing their equipment and making some important contacts. From noon Saturday until noon Sunday, members of the society ran their radios and other equipment off of solar power and generators, making sure that everything worked on power that did not come from the main source of power. Member Dave Mills says the reason for doing this is to make sure that in the event of a natural disaster or other catastrophe, their equipment can still work and provide vital communication.
While this is the primary purpose for the marathon event, members will also spend that time making contacts with other amateur radio operators around the country so that if needed, they can have a contact list to spread information in times of crisis. The organization works hand in hand with local emergency management organizations to help each other in times of need.
The event was free and open to the public. Mills says that in past years, the event conflicted with Country Stampede, so they did not experience very much traffic, but he is optimistic that by moving it up one week, that could change this year.