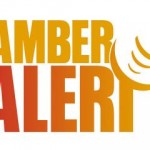 Last week's Amber Alert involving a Springfield, Missouri girl reminded many of us that such a national  emergency notification system exists. Riley County Police Director Brad Schoen and Lt. Josh Kyle updated intergovernmental leaders about how Amber Alert works, with a long list of procedures involved.
 Kyle adds it isn't that suprising that it takes a few hours to get such an alert sent out, with having to find out what's going on and get accurate descriptions, and then notify all the proper authorities, in order to send out the alert.
The two RCPD officials also explained why some people got the Amber Alert Calls automatically on their cell phones,  saying it has to do with whether the phone is capable of getting the emergency notification and if the carrier is a participating organization.
A concept design handed out by Manhattan Public Works Director Rob Ott at Monday's intergovernmental meeting resembled a bobsled course from the recent Olympics, but Ott stressed not to get the wrong idea– as he presented possible sled hill plans for Cico park. The matter came up at last month's meeting, with Ott reminding those attending the hill is a possibility with other work being done in that location.  But again Ott stresses this is just a concept at this time.
As KMAN announced last week, there are some changes going on with leadership at the Flint Hills regional council–and that was made clear by Bill Clark and Gary Stith during the intergovernmental meeting Monday. Stith, who had served as interim director of the group prior to Clark taking over the position last year, will be the group's Deputy Director effective March first, in charge of day to day operations of the group.
Clark is no longer the full time director of the Regional Council, having taken a position with Geary County's USD 475. He'll be focusing on building strategic plans with the organization and  looking at the business side of operations,
Stith also outlined the four programs the Regional Council is involved in, with the Frontiers Project going on for the past two years, Metropolitan planning organization for about a year, and two new programs which include the Economic Development district and Regional Transit Administration.
The intergovernmental group incluces representative from Manhattan, Riley County, USD 383, Kansas State, Manhattan Area Chamber of Commerce, and Fort Riley.