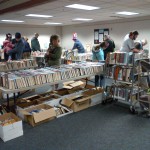 The Manhattan Library Association's annual book sale took place Friday-Sunday at the Manhattan Public Library.
Different genres of books could be found throughout the second floor of the library.
Hardcover books were priced at $1.50 each, while paperbacks were only 75 cents.  DVDs, CDs, and audiobooks were available for $2 each.  Children's books were on sale for 75 cents each.
The first night of the sale was only open to the Manhattan Library Association Members.  The other days were open to the public.
Chair of the book sale, Gary Jeffrey mentioned the sale usually averages around $10,000 every year.  The money is put towards different programs that the library provides.
Manhattan City Commissioners, Usha Reddi and Karen McCulloh were at the event to help with assisting customers.