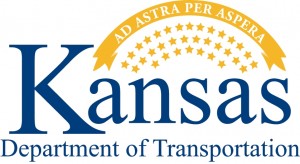 Eastbound and westbound K-18 from 56th Avenue to just west of K-113/Seth Child Road will be moved to the new westbound K-18 lanes and reduced to one lane in each direction (in a side by side configuration) for pavement reconstruction work sometime next Wednesday through Friday, (April 24-26), weather permitting. These lane closures will remain in place until late fall 2013.
Crews still need to pave highway crossovers before this traffic switch can take place. The ground is still too wet for this paving work to occur.
Drivers should expect delays during peak travel times and should use alternate routes if possible.
The K-99 Bridge over Brush Creek replacement project has been completed, except for some minor finishing work and the new bridge has FULLY REOPENED to unrestricted traffic. Crews still have some finishing work on the bridge replacement project including seeding and grading work.
The temporary traffic signals have been turned off and will be removed at a later date, the lane width restriction lifted and the bridge fully reopened to all traffic this afternoon.