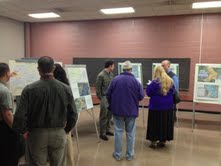 While Manhattan was in a flash flood warning Wednesday evening, the Kansas City district of the Army Corps of Engineers held an Open House at the Manhattan Fire Station to discuss possible changes to the city's levee system.
With the choice of several options, they have decided the best plan for Manhattan would be for a 300 year flood plan, which costs almost 18 million dollars. The Federal Government will be funding 65 percent of the money for the project while the remaining 35 percent will come from local sources.
Chief of Planning, John Grothaus, says the problems with the current levee system are due to a lack of education by the designers. Since the design of the levee, Manhattan has seen significant flooding, which helps us plan for future flooding.
Grothaus says he has the highest confidence in their planning and understanding of the water sources and flood plain areas which can benefit the city during times of high water.