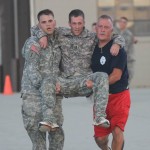 Updated:Wedensday afternoon
KMAN news has just received word that Tiger Patrick, the Desert Storm Veteran we had a chance to visit with Tuesday, will be speaking at the Wamego City Park from four to six Wednesday afternoon.
Patrick is walking across the country, with a panel listing the U-S service members killed while fighting wars in Iraq and Afghanistan.
####
This year, one man has made it his mission to bring awareness to fallen soldiers. Desert Storm Veteran Joe "Tiger" Patrick plans to walk across the country with a panel listing the names of U.S. service members killed during the wars in Iraq and Afghanistan.
The walk was started to ease Patrick's guilt with current soldiers finishing the Desert Storm war that he fought in several years ago. Patrick has titled the walk "Faces of our Fallen" and hopes to remind civilians and families still grieving over their loved ones that fallen soldiers are not forgotten.
Patrick plans to end his self-supported cross-country journey in Washington D.C. where he will visit the wounded soldiers at the Walter Reed Army Medical Center.
Patrick expects to arrive at the capital by Halloween.