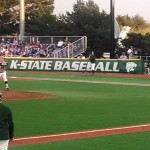 Darryn Sheppard hit a long home run and Adam Toth came up with a key RBI single in support of starting pitcher Daniel Castano who worked eight innings while battling in and out of trouble as Baylor won the final game of a Big 12 series from Kansas State with a 3-1 victory before 3,494 Saturday night at Tointon Family Stadium.
The Bears broke on top in the top of the third inning on an RBI groundout by Brett Doe which scored Logan Brown. K-State evened the score in their half of the third when Carter Yagi's RBI double brought home Taylor Anderson. The Wildcats had a chance to score more runs but Castano as he did on several occasions was able to avoid further trouble.
The Bears regained the lead for good in the top of the when Sheppard launched a Nate Griep pitch for a home run to left-centerfield. Baylor padded the lead in the top of the eighth on Toth's RBI single which plated Logan Langford. Castano gave way in the ninth inning to closer Josh Michalec who picked up his 14th save by retiring the Bat Cats in order to end the game.
Kansas State (22-18, 4-8) returns to action on Monday when they open a two-game non-conference series against Cal State-Bakersfield at Tointon Family Stadium. First pitch for both games on Monday and Tuesday is set for 6:30 p.m.
Stay connected to all things KSU on the go just text EMAW to 88474
For full video wrap-ups, including analysis, highlights, coaches & player interviews of K-State Football & Basketball check out PowerCatGameday.com