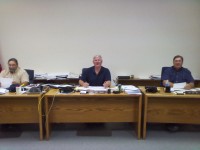 The next step is a go ahead for the Belvue Bridge as both Pottawatomie and Waubunsee County have agreed to the engineering estimates and the testing to come with it.
During Monday's Pottawatomie County Commission meeting, the commissioners decided to phone Waubunsee to get an idea of where to go with the project.  Wabunsee County Commission Chair Ervan Stuewe gave the go ahead stating that they would contribute their percentage share.
Pat Weixelman, Pottawatomie County Chair, asked about traffic control and Stuewe gave the approval of his county helping with that as well.
The estimated cost for the engineering testing is about $40,000.
The Pottawatomie County Commission also had a budget hearing for the Fire District #10.  The purpose of the hearing was to amend the budget to allow for additional debt payments and possible refinancing allowing the Fire District #10 to be eligible for consolidation with the other districts.
The commissioners approved the amendment with a 3-0 vote.
Department updates for the meeting included from John Watt, County Counselor, Leu Lowrey, Public Works Director, and Scott Schwinn, County Transfer Station Supervisor and Sanitarian.