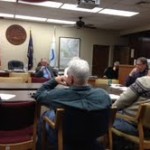 Thursday's Riley County/Pottawatomie County/Manhattan City commission meeting featured two items, the first of which involved the Blue River Silver Jackets pilot project.
This involves a four step project that Senior Planner for the City of Manhattan, Chad Bunger estimates will take  12-18 months to complete.
Bunger took the time to explain the step he is most excited about, where a non-structural mitigation analyst will be visiting to share how to save houses from exposure to flooding.  This often times can involve raising a house off the ground, or renovating the basement into a crawl space.
————–
Monday, February 24th will be the first Riley County Board of Health meeting.  Three of these will take place every year, and Katy Oestman with the Riley County Health Department mentioned it will last from 7-8:30 that evening.
All local entities were invited to attend, as well as members of the public.
Manhattan City Commissioner, Karen McCulloh commented, "I think it is great".
————–
Executive Director of the Flint Hills Regional Council, Bill Clark took some time to clear up confusion on the council's four projects.  He said the committees heading the projects often get mixed up with the council itself.
The four projects the Flint Hills Regional Council are currently working on are:  the Frontiers project, the Metropolitan Planning Organization control, the economic development district and the regional transit administration.
—————
There will be no joint city/county meeting next month, so the next meeting will take place April 17th at the Manhattan city offices.