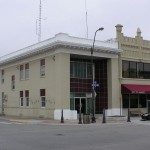 It was local board report time again in Wamego. At Tuesday's City Commission meeting, The Planning Commission reported several significant accomplishments last year, with one being the review of the City's Zoning Ordinance concerning Day Care, in order to bring the day care catagories and definitions in conformity with the new State definitions.
The Board of Zoning Appeals Chairman Woody Surs said they granted seven zoning variances and one special use permit. The special use permit was issued for a home occupation for a licensed day care, which is again to comply with the new State day care licensing requirements. Surs said over the next couple of months, the Board will be reviewing 15 applications for day care home approval.
Wamego Hospital Board Chairman Lanny Bosse reported the Wamego City Hospital is now debt-free after retiring the bonds used in the recent remodeling project. He said revenues are stable and increasing, and with upcoming renovations, there's one-year's worth of cash on hand to handle the needs.
The Commissioner's thanked the reporting board chairs for their commitment and dedicated service to the community.
Wamego's burn-site may see some changes. At Tuesday's City Commission meeting, City Manager Merl Page said the City has an opportunity to purchase an air-curtain for the current Burn-Site, which would enhance the ability to burn leaves and tree debris. However, the State made changes regarding burning, and the air-curtain is now considered an incinerator, and will require a permit to burn leaves and tree debris. Page said the staff recommends the purchase of the air-curtain contingent on getting the appropriate permits from the State. The Board approved the purchase with those conditions.
In other business, Page said the City knew several years ago they would be required to purchase and install individual metering systems for the eight units within the Power Plant in order be in compliance with the Kansas Municipal Energy Agency's standardized system. He the cost of the metering system for the eight units is not to exceed the cost of  $79,750. There was unanimous approval.
The March sales tax numbers reflect a 1.6 percent increase for the City, while the County-wide sales tax numbers show a decrease of 2.2 percent.