B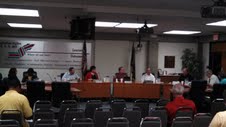 udget, a facility study, and acquisition of land were all part of Wednesday's Manhattan Ogden school board meeting.
The meeting started off with a forum concerning the budget.  This was the public's opportunity to come talk with the school board about their concerns as to where the budget money should go.  With an hour and a half set aside, there were no public comments.  Lew Faust, Director of Business Services, spent the time reviewing Budget 101 and a preliminary question and answer session with the board.  A budget work session is planned for next Wednesday, July 24.
Because of the lack of attendance, the board then began to tackle items on the agenda.
Carol Adams, Executive Director of Teaching and Learning, was able to bring some good news to the board as the district has been awarded a grant from the Department of Defense Education Activity Educational partnership.  This grant totaled $1,739,045.  Manhattan was the only district in Kansas to receive one of the 15 awards given nationwide.
The purpose of this will help fund the district's "STEMing into College and Career Readiness" proposal that provides targeted support to students in grades 5-8.
During the meeting, Darell Edie expressed his gratitude for the grant and for Adams and her team for pulling together the grant forms in such a quick and efficient manner.
The Manhattan High School East campus facilities study report was brought back before the board during their meeting.  This report gave the board members an opportunity to see what needs to be done to fix issues within the building along with some possible changes to come later.
The final item on the agenda was the acquisition of property.  The board has been working on this for some time, but Wednesday they approved the first reading of the contract for about 33 acres of land in Pottawatomie County.  There was no indication as to exactly what this will be used for.