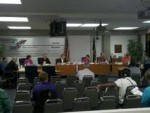 As part of the old business section of the USD 383 school board agenda, a request was made for the board to rescind a motion they made at their March 27th meeting concerning the turf project at Bishop Stadium.
Lew Faust, Director of Business Services, made the request to null the contract with Double E Construction, out of Gas, Kansas for the site work at Bishop Stadium. 
The board approved that motion and also went on to approve unanimously to give the contract to Bayer Construction, of Manhattan, for the site work on in the amount of $388,259.
Members of the board also had a round of discussion concerning the fees for parking permits.  Some members felt the price is to low and made two original motions to increase to $100 per permit.  But, others felt there should be some research done before making such a drastic decision.
The board finally passed the motion to approve the first reading of the fees for the 2013-2014 school year, with the exception of parking permits.
A presentation was also made concerning the prospect of having a community fieldhouse in Manhattan. 
After the data was presented concerning the survey done in December, discussion began about what role the school district would have and Gail Urban, Fieldhouse Project Chair, said she would possibly be back at a later time to request the district help fund the economic feasibility study.
This request but some board members on the defense, stating they don't have enough money for teachers and for the facilities, much less to give to this project.
The board did not take action at the meeting as this was only an informational piece.
The next regular board meeting is scheduled for May 1.