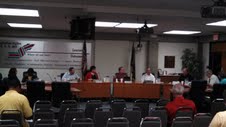 Starting off their meeting with a work session, the Manhattan Ogden school board had a theme of the KASB on their Wednesday agenda.
The board began talking about the KASB Preliminary 2013 Legislative Positions where there was discussion of teacher negotiations and possible policy changes.  The board presented their displeasure of the changes as Dave Colburn, board member, mentioned he "felt like he was being attacked".
The board did choose their Delegate representative as there was  a unanimous approval to have Dave Colburn represent and have Aaron Estabrook serve as the alternate.
Not all was discussion on Wednesday as the board was able to hold a special recognition for a group of volunteers who helped with the Frank Bergman Elementary Playground renovation.