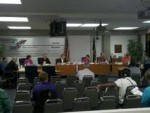 Prices will remain for both meal prices for the 2013-2014 school year and for the parking permits.
Both issues were brought forward during Wednesday's Manhattan Ogden school board meeting.
Meal prices were originally slated for their last meeting, but more time was needed to determine if regulations from the USDA were correct that would keep costs from rising this next school year.
The parking permits discussion began at their last meeting and was brought back with some additional information that was requested, but after reviewing both pros and cons, it was the administrative recommendation to keep parking permits at $50 until they were able to come back with where the additional revenue would go if the prices were to increase.
The board also had their first reading of the school start times and end times. With a 6-1 vote, with Walt Pesaresi dissenting, the board agreed to the recommendation to return to a 189 day school year and a longer student day for elementary students to provide additional early release and professional development time subject to negotiations.
There were also a couple of policy revisions that approval was needed on.
The board will be back for another meeting on Wednesday, May 15.
Graduation is scheduled for Sunday, May 19.