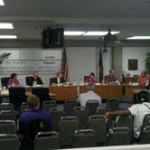 Starting off the evening, the Manhattan Ogden school board began tackling the Manhattan High School East Campus and the preliminary facility study.
During the presentation, questions began to arise as to how long the fixes would last and when a new building may be needed.
But as the consultants task, they were just to come up with what needs to be done and what can be done to the building.  In the end, it's up to the board to make the final decision.
One board member brought up the thought of reformatting the schools to utilize the space better by moving the 8th grade into the 9th grade center.
"Our elementary schools are over capacity," said Darell Edie, board member.  "This thing is definitely under capacity.  What would happen if we adjusted and went K to 5 in our elementary, 6 and 7 in Eisenhower and Anthony, and 8th and 9th in the 9th grade center?"
Just an informative piece, there was no action taken on this item.
The board also had a report about the summer programs as they officially started Monday, June 3.
According to Carol Adams, Teaching and Learning Executive Director, 600 students are enrolled in programs this summer thus far.
For unanimous approval, the board agreed on the fixed asset inventory contract, the new website with Vision Internet of Santa Monica, CA, the Frank Bergman Carpet and tile replacement, the bid for the Eugene Field playground surfacing, and the innovation stations in the libraries.
The board will meet again on June 26.