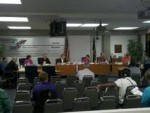 The elementary and high school schedules were put on hold, but that did not stop the Manhattan Ogden School board from exploring other items during Wednesday night's meeting.
The board was asked for approval to refinance the series 2008A bonds.
Greg Vahrenberg, Managing Director with PiperJaffray, gave his presentation showing the increase in savings that could be had.
The board approved the motion with a 5-0 vote.
Summer 2013 was also on the radar, as Carol Adams, Executive Director of Teaching and Learning, and Pam Russell, Executive Director of Special Education and Special Services, presented their proposed programs.
The board again unanimously approved this item.
The board also awarded the Manhattan High School East facility analysis proposal to Gould Evans.
One Manhattan residence did express his concern at having an outside source handle the project, but Board President Dave Colburn explained this company worked to bring in revenue from the high school project.
Becoming more technology friendly was also on the agenda as a presentation to become a paperless board was made.  The idea is to have the accessibility of iPads for the board members to use and to save from having to print agendas.