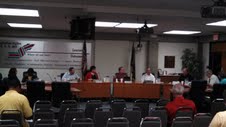 Two old business items made their way back on Wednesday night's USD 383 school board meeting agenda.
The first that was brought forward was a prelude to next week's Winter Retreat concerning the virtual program in the district.
During Wednesday's meeting, a brief overview of the three year plan was brought forward for initial comments and to give those involved an extra week to prepare for additional questions.
Some issues brought forward concerned financial implications of the school and whether the focus will be on in-district or out-of-district students, along with whether teachers will be in-district or out-of-district.
Next week's Winter Retreat will begin at 5:15 pm at the Robinson Education Center.
The second item to reappear was the issue of open and closed lunch at the Manhattan High School West Campus.
Greg Hoyt, School Principal, brought forward how this year went with having only sophomores having closed lunch at the campus and letting junior and seniors have open lunch.
Overall, Hoyt thought things were going well. His concerns came if the juniors were added to the closed lunch as there isn't enough room with just two lunch periods. This would mean an addition of a third, causing a split schedule of class being interrupted with lunch and then having to resume after.
Therefore, Hoyt recommended to the board to keep for next year the same arrangements as this year. Only sophomores will have closed lunch.
The board approved this with a unanimous vote.
Other items on the agenda included the first reading of the summer programs for 2014.
Carol Adams, Executive Director of Teaching and Learning, explained they continue to work with K-State, along with MATC and other partners to continue to grow their summer program list.
Adams also made the request to add an additional feeding location over the summer.
The board passed 7-0 the first reading of this item.
The board also approved bids for networking hardware, along with desktop and laptop computers and the continuation of both Dr. Bob Shannon and Bob Seymour's contracts with the district.
The next regular business meeting will be on Wednesday, March 5.