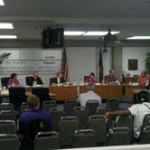 Scheduling was a main topic at Wednesday's Manhattan Ogden school board meeting as both the high school and elementary schools schedules was again on the agenda, but this was followed by the tentative upcoming calendar year.
The elementary schedule had a bit more discussion as the issue of communication was brought up on how the board had gone about working on this issue over the past few months.
The board referenced an email, which caused some strong reactions.
"There was one negative email I responded very aggressively to," said Dave Colburn, board president, during Wednesday's meeting.  "It hit me hard.  I took it personally because I perceived that email questioned our motives and our intent and I've never been more simple and more pure and more clear in my intent on anything I've done on this board than to support collaboration time for teachers."
The board finally settled on the vote of 6-1 with Walt Peseresi, board member, dissenting to Plan B for the elementary schedule.
"Plan B (Better) for the elementary which would include increases planning time within the school day to 330 minutes per week, provides for four days of building professional development, four days of district professional development and includes eight early release for collaboration."
For the high school, the board unanimously approved the recommendations for R1, R2, R3 and R5 and passed R4 with a 6-1 vote, with Peseresi dissenting.
After the approval of the first reading for the calendar for next year, the start date looks to be August 14.  Though, this item will be returning for final approval at a later time.
The board also had the opportunity to approve the financial agreement, the bid for Double E Construction of Gas, Kansas for the site work, and the bid for AstroTurf for the installation.
This issue was brought forth by the Manhattan High School Booster Club and they have worked on gathering the donors.
Upon the turf itself will be logos of the four major contributors, which include Surgical Associates, Steel and Pipe, Dick Edwards, and Tindall Orthodontics .
The board also unanimously approved all of the bid for technology.  These included the facility maintenance software and information technology software, disaster recovery storage area network, network hardware, and the Internet bandwidth.
The board's next meeting will be Wednesday, April 3.