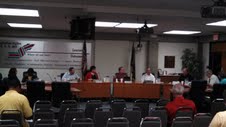 During the Wednesday night meeting, the Manhattan Ogden school board had a number of items on their radar, among them were common core standards.
Brought forward by Carol Adams, Executive Director of Teaching and Learning, the issue with common core was to make the recommendation that the board approve the Kansas College and Career Ready Standards, previously adopted by the Kansas Board of education.
During the discussion, Dave Colburn, board member, brought forward the analogy of the standards to be taught to that of cooking chicken.
"The standard is chicken should be cooked to 165 degrees", said Colburn. "That standard does not tell you how you get it there. You can bake it, you can broil it, you can boil it, you can fry it, you can smoke it, you can braise it, there's a whole bunch of ways to get chicken to 165 degrees. The standard is to get it to the 165 degrees and the health department's okay with that. They don't tell you how you got to do it."
This analogy was presented against comments that the standards will dictate how teachers must teach the material.
The board did unanimously approve the recommendation.
Professional Development Time at the High school was also on the agenda as the request was brought forward for 11 supplemental PLT Team Leader positions at Manhattan High School.
After some positive remarks by board members on the progress made from past programs to where PLT is now, the board unanimously passed the motion for the positions.
For another round of discussions was the virtual education. Though nothing was decided, there was indication the board would like to see the virtual school be supplied in-house.
With this recommendation, more discussion is expected as a general draft will be brought forward of ideas and proposals at the board meeting on February 19, with it continuing to the board's Winter Retreat the following week.
The next board meeting will be Wednesday January 8, 2014.