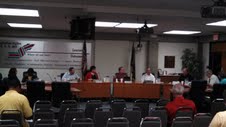 A 35-minute meeting was what happened Wednesday evening for the USD 383 school board.
The board began with a proclamation.
Curt Herrman, Board President read through the announcement that officially made Monday, January 20Martin Luther King, Jr. Day in observance of his birthday and that the week of January 19 through the 25 is proclaimed as Martin Luther King, Jr. week.
The board then recognized Carolyn Scott as the Master Teacher of the 2013-14 school year and Dr. Lucas Shivers as a newly National Board Certified Teacher.
Bob Shannon, Superintend, also made recognition of the board for their service, as it is Board Appreciation month.
The only new businesses item for the evening was a change for the Disruptive Acts at School or School Activities policy.
The issue concerned conceal carry and the change will allow for school employees who have conceal carry to bring their gun to school property if it is kept secured in their locked vehicle.
Aaron Estabrook, board member, expressed concern as to what exactly being "kept secured" in a locked vehicle meant.
Shannon told the board he would go through the law and try to bring an answer when the issue is brought forth for a final read.
The board will be meeting with legislators on Friday, January 10 at the Robinson Education Center from 7 am until 8:30 am for a legislative breakfast.
The next USD 383 school board meeting will be held on Wednesday, January 22.