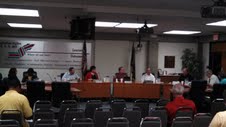 Taking much of Wednesday night's USD 383 school board meeting was the topic of virtual learning.
Beginning their night with a work session, the board had an opportunity to examine some of their issues and questions about the virtual learning program here in the Manhattan Ogden school district.
The main topic that was up for a motion was whether the district would terminate their contract with the K-12 virtual program.
That decision was made as the board had a 7-0 vote to term their contract, but what now?
That's where the board will pick up at their next meeting on Wednesday, December 18.
The board also took a look for its final reading the new course and course title change proposals for the 2014-2015 school year.
Among the discussion on this, Curt Herrman, board president, took back his concern for the Java Computer Programming class.
Herrman acknowledged he did more research since the last meeting and talked with others and discovered Java would be a good building block for students to have.
The other concern was for the Honors Investigation in Science, which according to Carol Adams, Executive Director of Teaching and Learning, would have an emphasis on the preparation for the National Science Olympiad competition.
Pat Hudgins, board member, was concerned about what looked like a club becoming a class and the fact students had to pass a test to be involved.
After the discussion, the board did pass the motion to approve the new courses and the course title change proposals for the 2014-2015 school year with a 6-1 vote with Hudgins dissenting.
Other items on the agenda included the passing of the revised board policies for electronic cigarettes and the rescinding of the laptop bid that was made at a previous meeting.
The board's next meeting will be held on Wednesday, December 18.