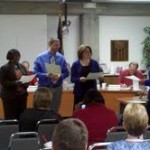 Tuesday saw the election for the USD 383 Manhattan Ogden school board and with it three new members.
Aaron Estabrook, Pat Hudgins, and Marcia Rozell were sworn in during Wednesday night's school board meeting, but they won't take their spot at the table until July when three members move onto other things.
During the meeting, the board unanimously approved the calendar for the 2013-2014 school year.
Within the recommendation, the board approved the start date of August 14, 2013 and the end date as May 22, 2014.
The board also approved the changes to the summer program, which include changes at Lee and Theodore Roosevelt  Elementary schools with the addition of a remedial summer program in the mornings for K-3 students who qualify for it.  There would also be a change at Ogden Elementary with a request for an additional month of summer program activities, including a library program.
The board also approved a couple of bids.  One was for the Bluemont roof replacement and the other was for desktop and laptop purchases.