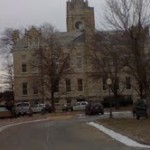 A bomb threat has been reported at the Riley County Courthouse. The threat came in shortly before 10:30 a.m.
KMAN's Laura Monsanto reported from the scene and indicates county commissioners were notified of the bomb threat during their meeting at a nearby building.
Riley County Community Corrections Director Shelly Williams told commissioners of the bomb threat. Commissioners were in executive session when the report first came in. The courthouse was evacuated, but Monsanto indicates judges and court reporters were being escorted back into the courthouse before 11 a.m. The all clear from the Iris alert system came in shortly before 11:30.