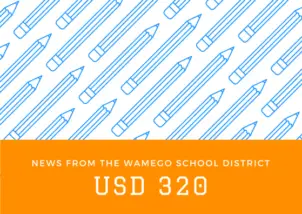 Wamego's USD 320 Board of Education approved a bond resolution at Monday's meeting. Board President Rob Adams asked for a motion to adopt the General Obligation Bond Resolution, which passed by a vote of 7 to 0. According to Superintendent Tim Winter, the bond did sell and this resolution is regulatory.
With the sale of the bond, the approved projects can begin. BBN Architects, Carl Riblett went over the CMAR selection calendar, and has four companies that will be interviewed: Coonrod, McCown Gordon Construction Inc., and BHS, all of Manhattan and Loyd of Ottawa. Interviews will begin on December 13th.
In other business, Transportation Director Larry Hannan, presented a list of prices and brands of Type D Activity Buses the District will be purchasing. No action was taken due to suggestions the District look into a used Coach type of bus that could possibly cost about the same as a regular school bus, and provide more comfort for the riders.
The board was introduced to different programs planned for the District. At Monday's meeting, IT Director Clint Heideman went over another school districts Bring Your Own Device (BYOD) Agreement that could be used to draft a similar policy for the District. Heideman said there are more public devices on the network than school devices, and the goal is to shrink down the number of devices on the network. He added that three new networks have been created, one for the High School, one for the Middle School and one for the Staff. Wamego will use this agreement as a tool to create their policy.
In other business, Teacher Crystal Brunner went over the Kansas State Department of Education's ESOL
(English Speakers of Other Languages) requirement of a Biliteracy Advisory Board, and what will be implemented in the 2017 school year. Brunner asked for approval to offer ESOL awards to the student body. Approval was given.
Also, Dr. Mary Kaye Siebert went over the new KESA (Kansas Education Systems Accreditation) process, which is a 5-year process toward accreditation for the District, which is new because just schools were accredited in the past.
And, Teacher Chris Cezar gave the Board a look into the Five Big Ideas of Reading, which are:
1. Phonemic Awareness, 2. Phonics, 3. Fluency, 4. Vocabulary, and 5. Comprehension. Cezar used a little humor in his presentation to the Board, and these ideas will be incorporated into the District beginning at the Elementary level.
The meeting began with recognitions.Superintendent Tim Winter recognized Kansas Teacher of the Year Finalist, Lori Stratton, emphasizing that she represents the District well.
Also recognized were the State Cross Country Team Members, who were introduced to the Board by their Coach Rick Patton. Seniors: Gavin Alexander, Kevin Boechman (Beckman) Patrick Hobbs, Jacob Land, Caleb Roberts. Juniors: Ben Hermesch (Hermish), Cody Stegman and Richard Wahlmeier. Sophmores: Jalen-Havel Stephens and Eli Wolfe. Patton said this was the 30th year the Cross Country Team has placed in State.
In other business, Board members Amy Schwein and Michele Johnson attended the Kansas Association of School Board Convention, and went over everything they learned while there. According to Schwein, this was the first year two Board members from Wamego attended.