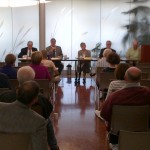 Although legislators had a late night, wrapping up the legislative session at 2:13 Saturday morning,  four of them also had an early morning-as they attended the Legislative Coffee Saturday morning at 7:30 a.m.
The event was held at Sunset Zoo's Nature Exploration Center.
Legislators spoke about what happened during the last night of the session, and mentioned the budget was the major topic that night.  The budget was passed, as well as a few other bills.
Riley County officials were in attendance to hear about the other main topic-the passing of the mortgage registration bill.  This bill will eliminate the mortgage registration fee, which is a large source of funding for county government.
Three out of the four local leaders voted against the bill, but one voted for it.  State Representative of the 51st District, Ron Highland said, "It was a tough vote for me because I'm primarily in a rural area.  The register of deeds office in the counties I represent depend on that income.  But, I also visited with all the community banks in that area, and they were being hurt by this system.  So, I had to vote yes."
Manhattan Ogden USD 383 school board members, and teachers, were also in attendance to hear the legislative views regarding teacher tenure and common core.